Soap packing machine is called the machine that wraps the soap coming from the production line by wrapping the packaging material in a way that does not pass moisture and air.
One of the most important features of the soap packaging machine is that it works stably in accordance with the serial production pace without damaging the product.
Soap is an easily crushed product due to impact, soap packaging processes requires more sophisticated and precise machines compared to other product packaging processes.
There are multiple soap packaging techniques, varying according to the sequence, number and shape of soap.
As seen below;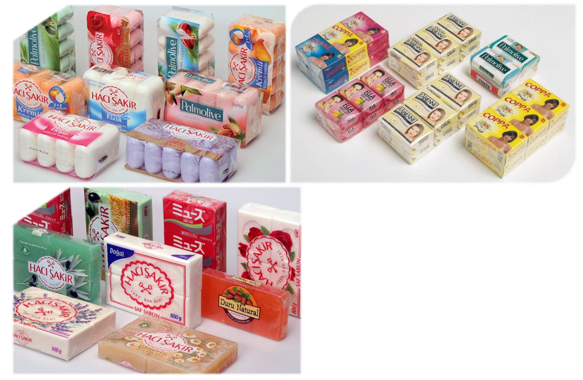 We Barışsan Packaging Technologies is  a company specializing in soap packaging for 40 years.
Our export sales are %90 of our volume and we have exported packaging machinery more than 70 countries. We have qualified stuff for technical aftersales service and installations.
Material we are using at all our machinery are international components as bearings, motors where they can be easily found worldwide such as Siemens (Germany) at electrical, automation units, Festo (Germany) at pneumatic applications SKF (Sweden) and FAG (Germany) at all bearing systems. At Motors and Driving systems our choice is Nord (Germany), Watt (Austria)
Mechanical parts are manufactured at CNC milling systems at our factory.
All our machinery is to be delivered according to "successful accomplishment of quality tests"
Highlights of our Soap packaging machines;
Electronic Speed Control
Photocell System For Print Registration
Enhanced Cellophane Cutting System
Easy Adjustable Motor Driven Format System
Heat Treatment Applied Hardened Cams And Gears
AISI 304 Stainless Steel Hood, In Feeding Conveyor And Upper Table
Over Ethernet Port
No Product No Wrapper System
Easy Tear Tape System
Plexiglass Covers Equipped With Security Switches
Digital Heat Controlled System Adjusted By P.I.D. System
Spare Parts Ready In Stock
Colored Touch Screen PLC System With Internet Connection